Doku "Hip Hop-Eration": Senioren tanzen auf der Weltbühne

28 Sept 15 - Focus online - "Agil, gelenkig, jung: Das dürfte auf die meisten Hip-Hop-Crews der Welt zutreffen. Der Film "Hip Hop-Eration" porträtiert die wohl reifste Tanzgruppe der Welt - lebensfroh und rührend bis zum Schluss." more....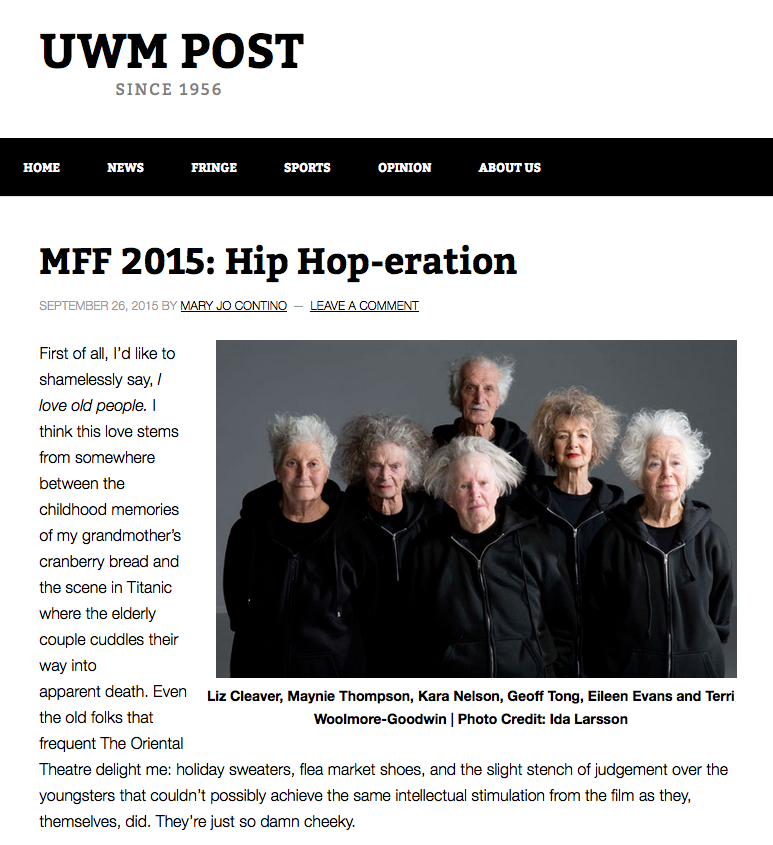 26 Sept 15 - UWM film critic, Mary Jo Contino, says - "I wanted terribly to call up my 87-year-old grandmother and chat about life afterwards, but I knew it was her dinner time around the time the film let out. The film is a reminder that age really is just a number. You can do whatever the hell you want in your future, even after your inevitable hip replacement. more...

Film sweeps up 3 NZFA doco awards
12 Dec - Nominated for four awards, Hip Hop-eration received Best Documentary, Best Documentary Director and Best Documentary Cinematography at the Rialto New Zealand Film Awards leaving the team feeling totally overwhelmed and honoured. more
Good Morning Show
30 Sept - Could you see yourself busting a move at ninety-five? We'll hear the heart-warming story of the crew from 'Hip-Hoperation' who say age is just a number. Watch

★★★★ review!
29 Sept - Christine Powley says, The Waiheke Islanders turn to an urban crew for guidance and it is instant love on both sides. When they perform the young crowd does not see mockery, they see an openness to their culture. It's the love that keeps these aged hip-hoppers going. More
KeepingUpWithNZ
27 Sept - Film reviewer Ian Wright, of KeepingUpWithNZ, says Hip Hop-eration is a heartwarming and hilarious Kiwi documentary which is full of as much uplifting jubilance as it is heartfelt and tear jerking monologues. More
Localist
26 Sept - Kylie Bailey talks to crew manager, Billie Jordon to find out why Hip Op-eration. "What I love about the film is that they don't show the gleaming white beaches – they show the moods of Waiheke – and the little baches," says Billie. "It's all about our quintessential Kiwi can-do attitudes and being the underdog." more
Yahoo!
25 Sept - Film reviewer Stacey Hunt says, Whoever said growing old is boring has clearly never met New Zealand's Hip Operation crew. In what is one of the most uplifting documentaries I've ever seen, this group of senior citizens defy all odds to take to the stage at the World Hip Hop Dance Championships in Las Vegas. More



Flicks.co.nz
25 Sept - Flicks.co.nz and Chillbox Creative talk to documentarian Bryn Evans about his feel-good feature that follows a group of senior Kiwis who train to compete in the World Hip-Hop Championships in Las Vegas. Watch
Jo Holmes blog
24 Sept - Watching the 500 or so members of the public and media emerging from having seen the 'Hip Hop-eration' film premiere on Monday night it was obvious the film was going to be a huge success. more
Kickarts radio show


21 Sept - "This is one of the most stunning documentaries I have seen in a long time...the film, the narrative was beautifully edited and directed...it was real insight into old age, into courage...it crosses the generations...I cannot describe the emotional journey it took me watching it...it's funny, it was really funny, I laughed, I cried and it took me by surprise too..I went off to bed that night with a little skip in my step feeling very happy....Go and see it...I cannot say this strongly enough I give it 11 out of 10. It's an awesome awesome documentary." Richard Green, radio show host. Listen (at 31:20)
North & South magazine

Big Screen NZ
18 Sept - Film reviewer Clinton Randall, says, Firstly I think it's important that this review be prefaced with the fact that I'm 29 and male. I went into Hip-Operation with low expectations hearing that it was about a bunch of senior citizens trying to form a 'crew' and very quickly into the film changed my tune! more